What is it like to walk in emptiness? The wet sand reflecting the sky until the two seem to merge into one. Clouds moving across the ground. Vast. Luminous.
Horizons on every side. The edge of the land you've walked out from visible as a narrow, grey-green line ... but distant. The edge of the sea not visible, not audible, but always present in your awareness as the greatest source of danger all the time you are out on the sands. Ships moving slowly along an invisible channel. The coastline of a different county drawing a pale blue ridge line between the sand and sky.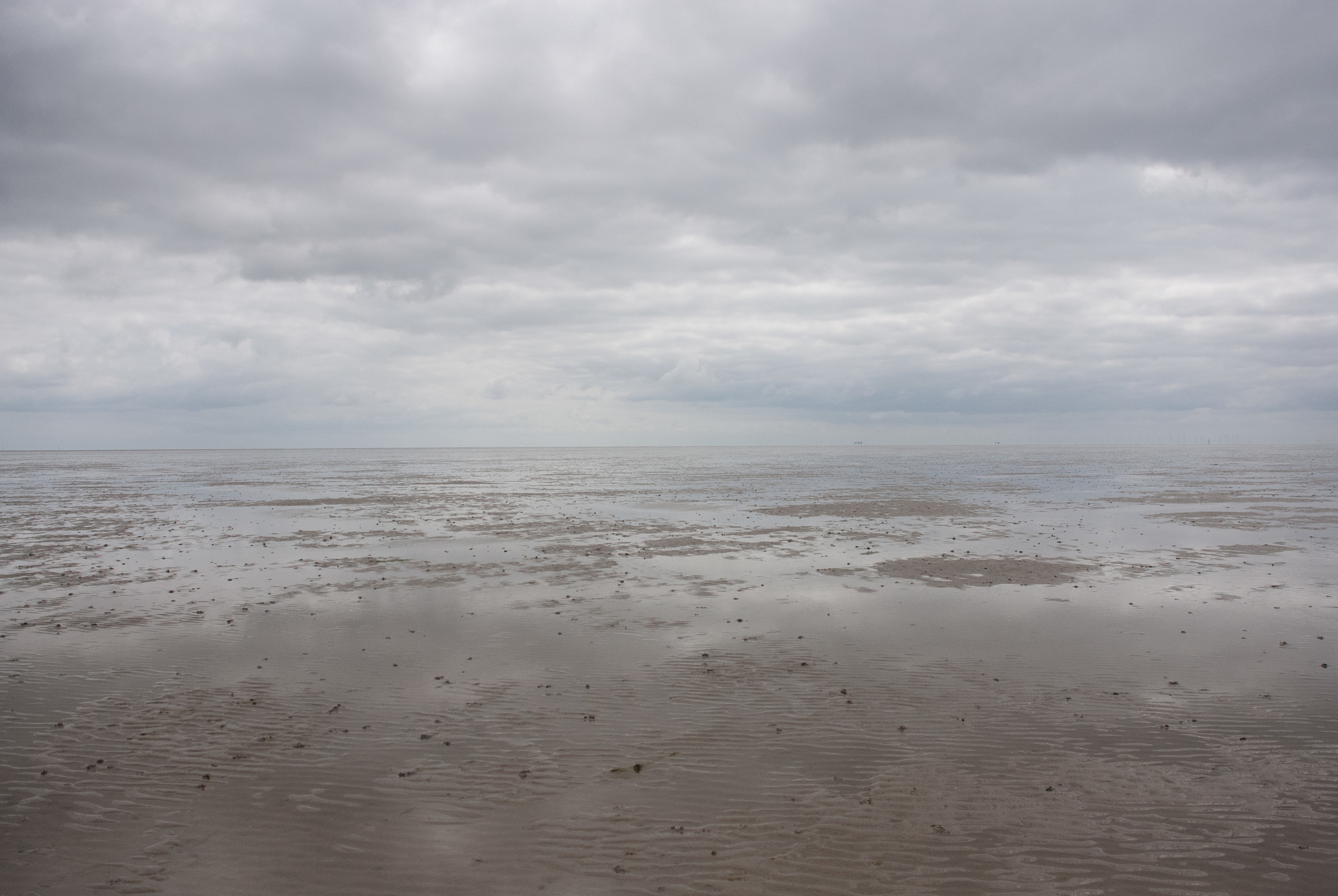 Few sounds. The wind. A cuckoo calling on the mainland. A gull's scream overhead. The constant fizzle of the oozing sands. Feet splashing through water.
Small details that would normally be overlooked. Worm casts dot the sands as the water retreats. Tiny white crabs. A solitary Dunlin. Isolated poles. A broken breakwater drawing a charcoal line in the distance.
The Broomway is a public right of way over the foreshore at Maplin Sands off the coast of Essex. It runs for six miles along the Sands some 400 metres from the present shoreline. The track is extremely dangerous in misty weather as the incoming tide floods across the sands at high speed, and the water forms whirlpools because of flows from the River Crouch and the River Roach. Under such conditions the direction of the shore cannot be determined.
Like the similarly dangerous path across Morecambe Bay, the Broomway has a reputation as "the most perilous byway in England". It owes this reputation to the disorienting nature of its environment in poor visibility and the near inevitability of death by drowning for anyone still out on the sands when the tide comes in. The Foulness Burial Register records 66 bodies recovered from the sands since 1600, which is only a fraction of the total who have drowned.
The Broomway was formerly marked by a series of markers resembling brooms, but is now unmarked. There is no actual track and access is restricted by the MoD.
Adapted from Wikipedia
More information about the Broomway
Guided walks along the Broomway: Nature Break Wildlife Cruises